This is the UN-TOLD STORY of the Real King of Berlin.  This year, in 2020, there will be no Berlin Marathon.  No 'Elites Only' race. No mass participation race. No crowds. No bands lining the course. No blue line showing the way. No world records being chased. No Eliud. No Elvis. 
Yes, no Elvis. WTF?  
 [ Don't worry, we'll get to that.]
And so to mark the occasion of our first ever 'blog post' or as we'd prefer to call it from this moment forward [ un-told story ] we decided to take a trip down not-so-distant memory lane to the Berlin Marathon, circa 2018.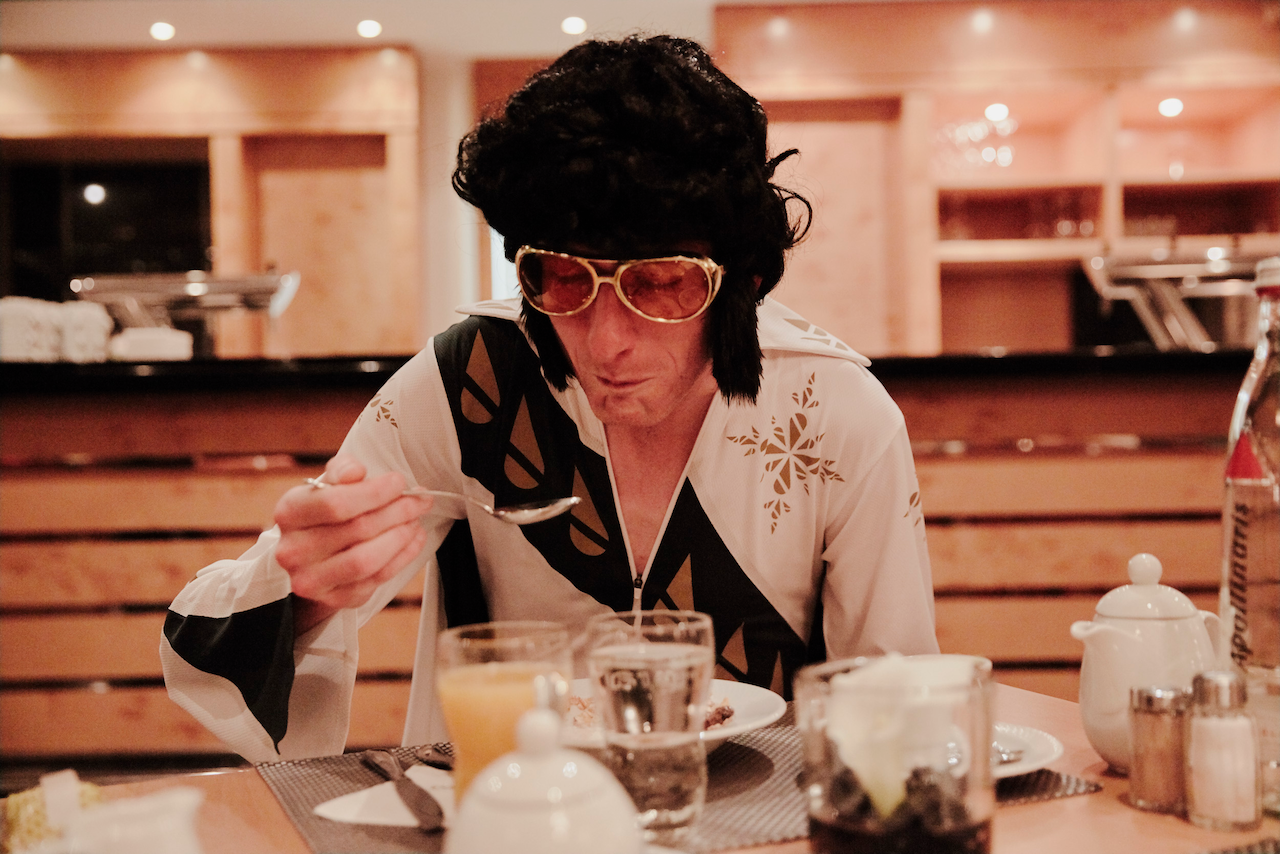 For most runners who were there chasing their own dreams on Berlin's pancake flat roads that day, it would be remembered as the day Eliud Kipchoge set the streets on fire by finally realising his dream of breaking the official marathon world record.
But for us, it was also the day we set out to break a world record of our own and claim title of 'the fastest ever marathon dressed as Elvis'. Wig... Golden Glasses... Jumpsuit and all!
But there was a point to the insanity. Sort of. This world record attempt was to be the first time ever our new 100% recycled performance fabric [BottleKnit™] had been tested. By us. By anybody... since it was a new fabric R&D we'd already spent a couple of years trying to figure out, trying to find the right textile manufacturing partner willing to embrace the sustainable path we were stubbornly pioneering. (side note for another story: other brands have since jumped on board and are utilising the fabrics we instigated.)  
Literally,  
 the first time the fabric had EVER been ran in was at midnight the night before the Berlin marathon.  By Elvis... running up and down the hotel hallway.  
 Now that's rock n' roll.
And that first test product? Yes, a Custom Elvis Performance jumpsuit...
made from recycled plastic bottles!  We figured that if the fabric could pass the test of a full jumpsuit running at world record pace then it could certainly handle being used to create the most technical and sustainable race singlets, every day run tees and muscle tees, right?
Yes, marathons have always attracted costume runners. They're a special breed.  
 From rhinos, to cavemen, to superheroes. Even the 2018 winner of the men's Boston marathon, Japanese athlete, Yuki Kawauchi has claim to the fastest (half) marathon dressed as a panda, clocking a very un-panda like 1:10:03. But... the biggest global phenomenon and most coveted costume record of all is undoubtedly that of 'The King'.
But of course, the world's fastest suit also needed an equally fast athlete to toe the line, and claim the crown in it. That was a task embraced by our Elvis, AKA: Nikki Johnstone.  What a certified legend. 
 [ As evidenced by the series of race images below that received an insane amount of global and well deserved coverage at the time. ]
And did he claim the Guinness World Record Crown?  
 In a word: YES, of course he did.  And okay, that wasn't one word.
And he did it in an amazingly un-costume like finish time of: 
02:37:04 
( Which included a mid-race Porta-Potty-Pit-Stop! )  
A finish time that also sparked an immediate response from the former King, Mike Wardian:  
 "Looks like it is time to dust off the Elvis costume."  
 Unfortunately for Mike (but fortunately for us) his 2019 re-claim attempt was unsuccessful. Just.